BATH
or
(O)FURO
The Japanese are said to be a cleanly people.
We like bathing very much and most of us take a bath everyday.
It is not only for cleaning the body, but also for refreshing and relaxing oneself.
After we get home from work, a hot bath is a nice relief from the daily grind.

***

How to take a bath in Japan
Put all of your clothing in a basket or shelf in the changing room.
In the bathroom, any clothing should not be worn.
Bring a small towel to wash your body with soap.
Before getting in the bathtub (yubune )you first have to wash and rinse your body.
Because the Japanese share the same bath water with others, it should be kept clean,
so please wash and rinse yourself out of a bathtub
before getting into hot water in the bathtub.
Don't use a towel in the bath water, don't wash your body with soap in the water
and don't drain the water after you use it.

Japanese bathrooms are separated from lavatories.
Don't use the drain for lavatory.

***

A "Sento" is a public bath.
Recently the number of sento has been dwindling
with the popularization of the home bath,
but you can still find some sento left in Japan.
For example "Yamahana Onsen" between Tachiya and Nagoya Univ., and
"Motoyama Onsen" behind Matsuzakaya Store in Motoyama.
Usually "onsen" means hot spring, but sometimes it`s also used to refer to sento.
The fee for a sento is 380yen for adults (more than 12 years old) in Aichi Pref.(July 2003)
The way of taking bath is the same as that of the home bath.

***

An "Onsen" is a hot spring.
Because Japan is volcanic, there are many hot springs all over the country.
Recently, trips to stay in a hotels with nice onsen have become very popular among the Japanese people.
The chemical components included in the water are effective
in curring illnesses and making the skin smooth.
I recomend that you to go to an onsen which has a large volume of water and is really hot.
The way of taking bath is also the same as that of the home bath.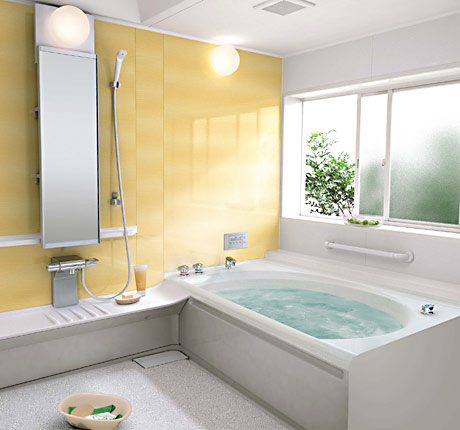 photo: courtesy of TOTO