Futami Okitama Shrine
Shimenawa Changing Ceremony
大注連縄張神事/Oh-Shimenawa-hari Shinji

May 5th, September 5th and
December (2nd Sat. or Sun. or 3rd Sat. or Sun./depend on the tidal condition)
10:00a.m. -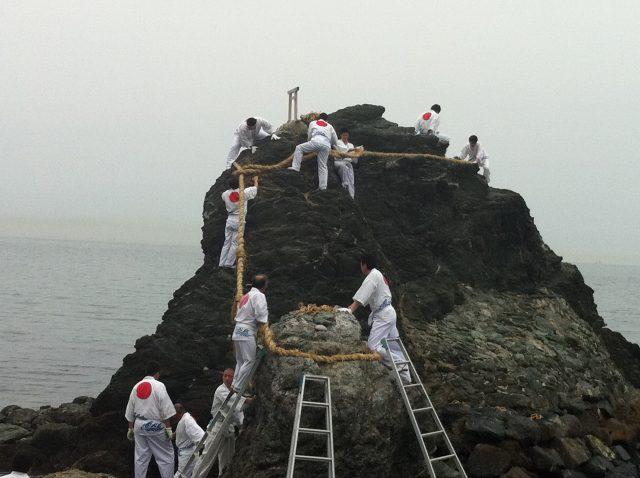 Photo courtesy of Bachir

This pair of rocks is called Myoto-iwa 夫婦岩 (Rock of husband and wife)
Approx 700m far from these rocks, there is a holy rock, 興玉神石/Okitamashinseki, in the sea.
Myotoiwa is likened to a torii gate of this holy deity rock.

Three times a year, 5 long shimenawa are changed by volunteers of the Okitama Shrine.
Visitors also can participate the ceremony when they carry the ropes to the rockes.

| | |
| --- | --- |
| | |
| Photo courtesy of Bachir | Photo courtesy of Bachir |


Address
575, E, Futami-cjho, Ise C. Mie Pref.
三重県伊勢市二見町江575

TEL
0596-43-2020

Access
Take JR Mie #51(kaisoku Mie 51) 7:49a.m. bound for Toba from JR Nagoya station,
you will arrive at Futamiura station at 9:36a.m. 2110yen (107 min.)
(Seat reservation ticket 510yen)
A 15-min. walk