HEIWA CEMETERY PARK
(HEIWA KOEN)


HEIWA-DO
(Peace temple)
present from Nanjing City
as proof of sister city
Budha enshrined
in Heiwa-do

Heiwa Park is a cemetary park located in the East of Nagoya.
and it is 146.5 hectar.
There are approximately 2,250 cherry trees, and in spring
people come and enjoy picnics.
There are also maple trees, Japanese red pines, wild azaleas, etc.
Approximately 80 kinds of wild birds live there.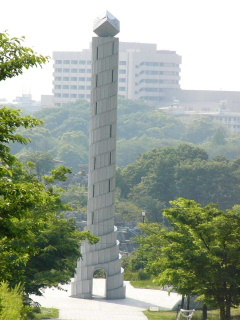 NIJI NO TOH (rainbow tower)
On the Vernal Equinoxday and the
Autumn Equinox Day, beautiful
rainbow will come down from the top
KENTAI NO TOH

For the memory of the people who left
their body to medicine
Peaceful atmosphere
ISEWAN-TAIFUU KINENHI

A memorial to the Ise Bay Typhoon on
September 26, 1959
Approximately 5,000 people were killed
MUEN-ZUKA
( lit. no relation grave)

grave for the people who don't have
any realtives who take care of his /her grave
MIZUKO-JIZO

These are Jizo statues in order to appease
aborted foetuses.
Jizo is a guardian deity of children.
View from Heiwado

NEKOGAHORA-IKE

(Nekogahora pond/reservoir)
In 1664 Tokugawa Mitsutomo, the second
lord of theOwari Clan, ordered to build
this reservoir for agriculture.
The source of the Yamazaki River.


GRAVEYARD
(Bochi)

After the World War II, approximately
190,000 graves in the downtown area of
Nagoya City were relocated here
in order to rebuild a city.


METASEQUOIA HIROBA
(Metasequoia Park)

Metasequoia is a name of the ancient tree.
It has been existed since
the Mesozoic era

CLIFF

In front of the Shibafu-hiroba
(center of the Southern Heiwa Park).
This stratum was formed by floods of
the Old Kiso River.
UNDULATE LAND

(Southern part of Heiwa Park)
Along the ridge walk, you can find aka-matsu
(red pine trees), kobano-mitsuba-tsutsuji
(kind of azalea), mochi-tsutsuji (kind of azalea),
shahsarimbo, soyogo. On the hillside,
you can find konara oak,
abemaki ( kind of beech), etc.
CHERRY and other trees
(Southern part of Heiwa Park)

In the meadow, you can find a home of
hannoki (kind of birch tree), tokai-komousengoke
(droseraceae apathulata), etc.
Approximately 80 kinds of birds can be seen.
Azuma-hikigaeru (kind of toad) also...



Northern part of the Heiwa park is a cemetary area.

Southern part of the park still keeps the atmosphere of
undeveloped woodland near populated area like
a reservoir, marshes, woods, etc.
There are also areas for people to grow food, such as:
sweet potatoes, cabbage, raddish, etc.
At the Shibafu-Hiroba, in the center of the Southern part,
there is a cliff made by the Yada River's cumulative stratums
layered by Yagoto stratums.
In the Yagoto stratums, you see lots of chert, a type of stone.
which was flushed by the flood of the Old Kiso River

Western part has Nekogahora-ike (reservoir) and
people enjoy fishing for crucian carps, black bass, etc.

In the Eastern part, there are fields of eucalyptus trees
for feeding the koalas in the Higashiyama Zoo, which
were wonderful gifts from Australia.



Cherry trees in Heiwa Park
Late March - Early April
There are approx. 2300 cherry trees (SomeiYoshino, Yama-zakura, Sato-zakura, Yae-zakura, etc.)



Hanami Spot
(Cherry blossom viewing sopts)

map




Inquiries
Higashiyama Park
TEL: 052-782-2111

Access
Get off at Higashiyama Koen Sta. on the Higashiyama Subway Line.
A 15-min. walk.
or
Get off at Hoshigaoka Sta. on the Higashiyama Subwway Line.
Take a municipal bus bound for Jiyugaoka Ž©—Rƒ–‹u.10-min. ride
Get off at Heiwa Koen •½˜aŒö‰€ Stop..