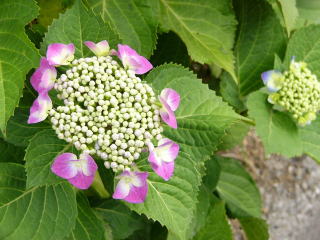 The nomenclature of this flower was named "Hydrangea Otaksa" for Otaki-san
by Dr. Siebold (1796-1866), her husband.

In the end of Edo Period, Japan had been closed to other countries. Only limited number of Dutch people were allowed to stay in the Dejima area in Nagasaki Pref.. Since Dr. Siebold was a German, he pretended that he was a Dutch, and worked in Japan as an interpreter and a doctor of the East India company. He was also a botanist. He collected Japanese plants and introduced them to Europe.
He reserched Japan and sent many kinds of information to Europe.

After 6 month he arrived in Japan, he fell in love with Japanese girl called Taki and married with her. He called her "Otaksa' or "Otakisa". They had a daughter and had been lived very happy, but one day he was banished from Japan because he tried to send a strict map of Japan maped by Inoo Tadataka to Europe. Siebold had to part from Otaki-san, but he kept loving her even after he returned his country.
Then he named ajisai, Otaki-san's favorite of favorites flower, "Otaksa"

What a romantic story !