Kamezaki Shiohi-Matsuri
(Kamezaki Shiohi Festival)

May 3 - 4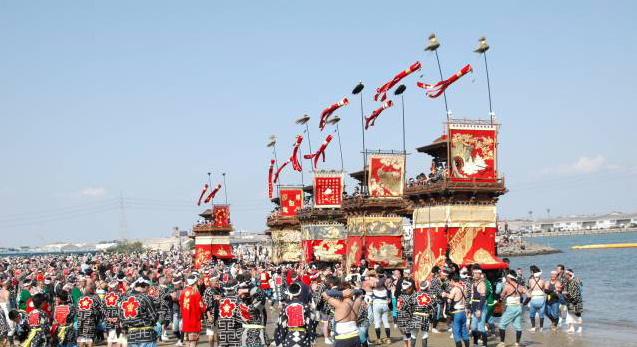 Kamezaki Shiohi Matsuri is a festival of Kamisaki Jinja (shrine)
and was designated as Japan's Important Intangible Folk Cultural Asset in March 2006.
copy of a booklet by Kamezaki Shiohi Hozonkai
2006
SHIOHIMATSURI is a festival of Kamisaki shrine.
Legend has it that the first emperor of Japan,
the god of the shrine, landed on this area from the ocean a long time ago.
Based on the legend, the festival was named after that 5 parade floats were drawn
to the SHIOHI beach.
Although the origin of the festival is unknown, there are some records
from late 17th century to early 18 century in various documents.
The tradition of the festival has been passed on over 300 years.

The parade floats were reconstructed and repaired many times since the first construction.
The existing floats have traditional crafts such as exquisite sculptures, splendid curtains
embroidered in gold thread and 4 cloisonne pillars.
In addition, elaborate puppets dance gracefully on each parade float.
It can be said that the 5 parade floats in SHIOHIMATSURI were constructed
bringing together consummate arts and crafts at the end of Edo (Shogun) period.

In 1959 after super typhoon the construction of a sea embankment
prevented the parade floats from getting into the beach.
In 1993 due to the completion of a man-made beach,
the great festival with drawing down to the beach was resumed.
In understanding situation for a festival nationally, SHIOHIMATSURI has been passed on
by a firm Group system for the festival and become more popular year by year.
It's also maintained as a traditionally all-male festival.

Since the 5 parade floats were designated as a tangible cultural property
from Aichi prefecture in 1966,
the moves toward reevaluation od cultural value of the festival occurred in the town.
The restoration of unusable puppets with damage or loss was made in succession.
Today all parade floats have 2 puppets in both front ledge and upper part.
Furthermore, the restoration of splendid curtains, sculputures and other decorations has been made.
And the conscious that we shall hand down tangible and intangible property of one's ancestors
to prosterity has grown year by year.
In 2006 the SHIOHIMATSURI has been designated
as a nation's sibnificant intangible folk cultural assets.
local people draw floats in the town for the beach
| | | |
| --- | --- | --- |
| | | |
| Hikioroshi (draw down) | difficult to draw a heavy float on the sands | push |
| | | |
| draw | Gambare ! | It must be very heavy.... |
| | | |
| almost ! | line up | Hikiage (draw up) |



schedule
May 3 (festival eve)
7:00a.m.
prayer for safety of the festival
9:20a.m.
start
10:10a.m.
arrive at Hikioroshizaka => boujime (fasten up ropes to the bars of floats)
10:35a.m.
finish boujime
10:40a.m.
draw floats down to the beach (highlight)
11:20a.m.
column of floats at the beach
0:10p.m.
move floats to the Matsuri-Hiroba
0:45-2:15p.m.
dolls' performances
2:20p.m.
draw floats for Akiba Shrine
2:45-4:25p.m.
performance of dolls at Akiba Shrine
5:00-5:25p.m.
floats arrive at Owari Sanja Shrine
5:25-6:55p.m.
performance of dolls at Owari Sanja Shrine
7:10p.m.
floats leave the shrine
May 4 (main festival)
10:05a.m.
offering of kagura => boujime at Owari-sanja (shrine)
10:50a.m.
performance of mechanical dolls
1:20p.m..
start
2:10p.m.
arrive at Hikioroshizaka
2:15p.m.
draw floats down to the beach (highlight)
2:40p.m.
all the floats make a line on the beach
2:50p.m.
draw up the floats from the beach
3:15p.m.
Hikimawashi performance in front of Kamisaki Shrine
4:35-6:05p.m.
offering of doll performance in frint of Kamisaki Shrine
6:15p.m.
draw floats around the town
7:30p.m.
finish
access
Take 'i'q Taketoyo line.
Get off at Kamezaki station.
Walk 15min.