Katayama Hachiman Jinja Shrine Annual Grand Festival
Held on October 29 (Sunday), 2017

Participants Wanted (men and women)


Would you like to carry a portable shrine of Katayama Hachiman Jinja (Shrine)?
Large mikoshi 神輿 (portable shrine) is carried by around 150local men , and a small one by 80 local women.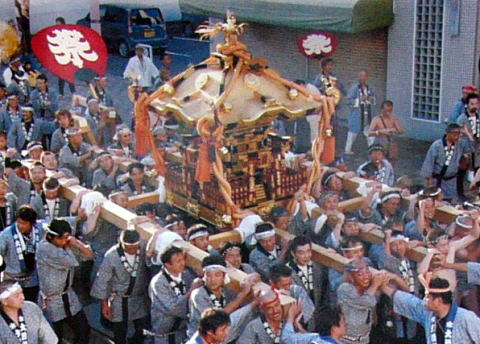 | | |
| --- | --- |
| | |
| This portable shrine is very heavy | International participants from Nagoya Univ. |

Katayama Hachiman Jinja Shrine Grand festival




Schedule of the festival

*Reception/11:30-, Shinto Ritual 12:30-, Procession 13:00-17:00, Snack service -18:00

...............................................................................

Our Schedule

October 29 (Sunday), 2017

We will meet at Heiandori (平安通) subway Station exit 5 at 10:30.

<Please buy a "Do-nichi Eco Kippu" (600yen) at your key subway station to save money.>

Then take the 10:44 bus "幹名駅1" bound for Nagoya Station (名古屋駅)
Get off at Tokugawa-cho (徳川町/4th stop from Heiandori stop).
Katayama Hachiman Jinja Shrine is near the stop.

Please memorize how to wear a festival pants called "momohiki or patch".
See the bottom of this page

What you bring: A towel to protect your sholder and white T-shirt (if you don't have, it's okay)
Participation fee: Free
Application deadline: October 13 (or until achive a quorum)


If you would like to participate the festival, please let me know
your name, country, gender and phone number (if you don't have, your friend's one) by email.



How to wear a Patch/momohiki/matahiki
1, A patch has a long strap and short strap
2, Hold a long strap in the right hand short one
in the left, then step into the patch
3, Hold the long strap, turn it from your back to
the front opened part, and pull it out from there
to your right side.
4, Hold the short strap and turn it to your right
side in wrapping your hip.
5, Tie them on your right side.
7, Complete
Illustration courtesy of EnshuHama Takoagekai