Wholesale District of Popular Cheap Sweets called "駄菓子/DAGASHI"
Mom-and-pop Candy Stores/駄菓子屋/Dagashiya



In Nishi-ku, there is a wholesale district of cheap sweets called "Meido-cho Kashi Tonya-gai/明道町 菓子問屋街".
In 1994, Nagoya City government changed town's name from Meido-cho to Habashita and Shinmichi,
but "Meido-cho" still remains as a name of the intersection and bus stop.
In this area, there were more than 600 cheap sweets stores (the number of stores is decreasing now)
and cheap toy stores (ex. bubble soap kit, water gun, etc.).
However after 1970s, many of them were driven to go out of business
because of the increasing of supermarket and covenience stores i


If you would like to buy cheap sweets in bulk, Meido-cho is one of the best places in Japan.
Even if you don't want to buy, touring this area must be fun to feel nostalgia.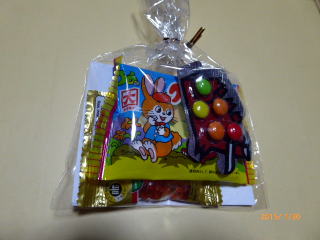 This dagashi set was scattered at the
kashimaki in the wedding event
You can buy cheap sweets in small lots
Name
Address
TEL
Hours
Closed
Additional notes
Tatsuya/たつや
Since 1947
2-5-1 Shinmichi, Nishi-ku, Nagoya
052-571-4660
Mon.-Sat. 8:00-17:30
holiday/10:00-16:00
Sunday
They have over 1500 kinds of cheap sweets.
Sakurai Shoten
桜井商店
2-4-4, Shinmichi, Nishi-ku, Nagoya
052-571-0502
Mon.-Sat. 7:00-17:00
Sunday
Yamaei
山栄
1-26-4, Shinmichi, Nishi-ku, Nagoya
052-571-6984
Mon-Fri 9:00-17:00
Sat,Sun
holiday
Official website is here (Japanese)
Suzuki Shoten
鈴木商店
2- , Shinmichi, Nishi-ku, Nagoya
CanRich
キャンリッチ
2-20-18, Habashita, Nishi-ku, Nagoya
052-571-5651



Access
Get off at Sengencho 浅間町 Sta. on the Tsurumai Subway Line.
Take exit 3.