Nagoya-jo
名古屋嬢
(lit. Nagoyan young lady)

Nagoya-jo is a play on words linking 名古屋城/Nagoya-jo (Nagoya Castle)
and 名古屋のお嬢様/Nagoya no ojo-sama (Some rich young ladies of Nagoya)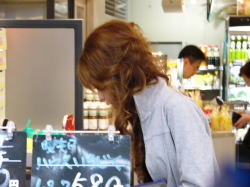 Nagoya-jo's hairdo/Nagoya-maki


The typical "Nagoya-jo" are born and brought up in rich family in Nagoya.
They are sensitive about fashion and wear brand-conscious clothes.
They go shopping to high-class boutiques and well-established department stores like Matsuzakaya
or Mitsukoshi or Takashimaya, etc.
They often go shopping with their mother that also in brand closing by their luxury car,
and purchase Europian luxury brands. Of course their mothers pay for them.
Relationship between Nagoya-jo and their mother is good, so they often share their clothing.
They have fancy hairdo called "Nagoya-maki/名古屋巻き": layered and curly long hair like a girl in the photo above.

Nagoya-jo don't work for company after graduate school but help out around the house until they get marry.

Nagoya-jo often go to long-established women's college in Nagoya: Sugiyama Jogakuen Univ.,
Aichi Shukutoku Univ. and Kinjo-Gakuin Univ.
So, they are called SSK..
(Shukutoku Univ. became coeducational in 1995, however
it still has a strong image of women's college among Nagoyan people except young ones.)

Among them, students of Kinjo-Gakuin Univ.金城学院 (金 means gold and 城 menas castle) are special.
Kinjo-Gakuin also has junior and hgigh school.
So, students who has been studied from Kinjo-Gakuin Junior High School are called "Junkin 純金/Pure Gold",
from High School "Juuhachikin 18金/18-carat Gold" and
only university "Kinmekki 金メッキ/Gold Coating"
Since 2003, this school is run under the system of continuous education from junior high to high school,
so there is no "18-carat gold" now.


Nagoya-jo 名古屋城(Nagoya Castle) is here.