NAGOYA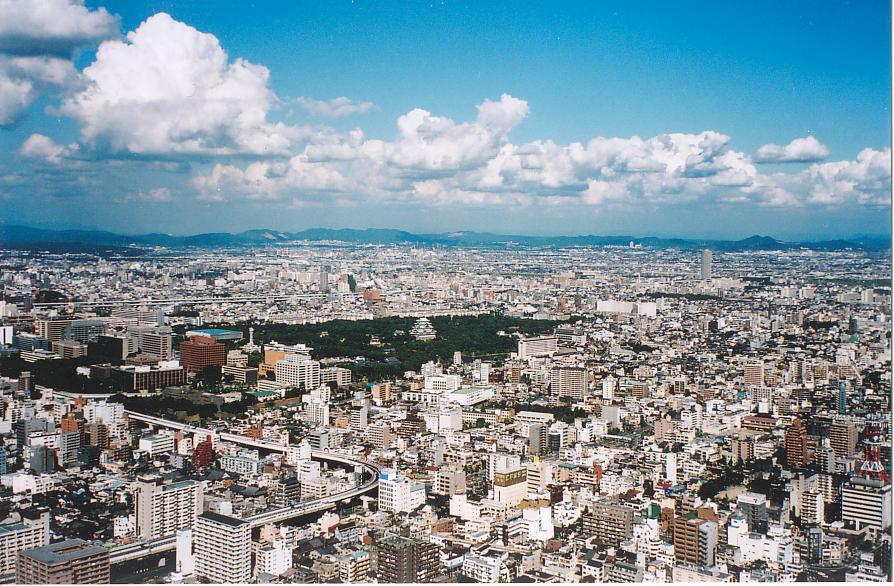 photo by Kristine



This "Chinese character hachi or eight in a circle" was used by
the Owari Tokugawa clan as a seal.
In October 1907 this "Maru-hachi" (lit. circle eight) symbol was adopted
by a vote in the Nagoya City Council.

*****
Nagoya (officially established in Oct. 1, 1889) is the capital of Aichi prefecture
located almost in the geographic center of Japan,
and is the 4th biggest city following Tokyo,
Yokohama and Osaka with its population of 2.194 million in Apr. 2004 (0.157million in 1889).


The area of the city is 326.45 āčáu (13.34āčáu in 1889)

Longitude: 136°47'41"E - 137°3' 50"E

Latitude: 35°1' 50 N - 35°15' 26" N

Highest point: 198.3m above sea level (Aza Tougoku, Ooaza Kamishidami,Moriyama-ku)

Lowest point: -1.73m below sea level (4 Shinchaya Minato-ku)


Nagoya has 16 wards (ku)

In 1610, Shogun Tokugawa Ieyasu orderd a castle to be constructed (Nagoya Castle)
as a residence for his son, Yoshinao,
because he realized the strategic importance of this area
located between Edo(Tokyo) and Osaka or Kyoto,
as well as its value for good naval communication.




Nagoya is roughly devided into three configurations.

Center
Naka, Higashi,
Showa, Mizuho,
part of Atsuta,
part of Minami
tableland, smoothly slope
down and away
from north to south
10-15m
East
Moriyama, Chikusa,
Meito,
Tempaku, Midori
gradual hilly terrain
50-100m
North,
West
South
Kita, Nishi, Nakamura,
Nakagawa, Minato,
part of Atsuta,
part of Minami
lowland
River floodplain

Since then, Nagoya developed rapidly as the castle town home of the Owari Clan.
During World War II, approximately one quarter of the city area was destroyed.
After the war, the city was reconstructed quickly based on extensive city planning.
For example, most of the graves of the temple were moved
to Heiwa Park or other specific places,
and long, wide roads were cnstructed as a disaster prevention measure.


The city tree is the camphor tree and the city flower is the lily.
Los Angeles (Apr.1959), Mexico City (Feb.1978), Nanjing (Dec.1978),
Sydney (Sept.1980) and Torino (May, 2005) are sister cities.
Spring and fall are comfortable, but summer is very hot and humid,
reaching more than 30 degrees everyday with humidity often above 70%.
Winter is cold with a wind blowing down from Mt. Ibuki,
but it snows only a few days a year.

Temperature: Ā@average 16.1Āé (60.98 oF)Ā@high 38.2Āé (100.8 oF). low -3.7Āé (25.34 oF)

Nagoya is the center of Japan's industrial sector
(production of automobiles, machine tools, metal products,
ceramics, electric appliances etc.)
Many companies in Nagoya are the market leaders of Japan,
including Noritake Co. for bone china, Kagome Co. for ketchup,
Brother Industries, Ltd. for facsimile machines,
and Shachihata Industries, Ltd. for ink pads.
There are also many industries in Aichi prefecture,
including the automobile industry
(such as Toyota Motor Co. in Toyota city, Mitsubishi Motor Co. in Okazaki city),
and many other industries related to cars,
ceramics (Seto cities), textiles (Ichinomiya city) and aviation (Komaki city).
Nagoya is the home base for many of these industries.

Kishimen, misonikomi-udon, tenmusu, uirou and moriguchizuke
are the special foods of Nagoya, please try them!
(Please check the other pages in my web site.)
Chubu International Airport, CENTRAIR, which has been open since Feb. 17, 2005/Heisei 17
is a huge window to the world for us.

The World Exhibition was held from March 25th to September 25th in 2005.

Now that I briefly introduced Nagoya,
I will give you a few interesting facts about the area for your enjoyment.
āhāÜ youĀ@have any interestingĀ@information or news, pleaseĀ@let me knowĀD

Thank you !

Enjoy Nagoya !
(April '02)
revise July '08