NIPPON DO-MANNAKA MATSURI (abbrev: DO-MATSURI)
( The Middle of Japan Festival )
* DANCE FESTIVAL *

(last Staturday and Sunday of August)


Nippon Do-mannaka Matsuri is a festival modeled on"Yosakoi Soran Festival ¹ " in Sapporo (Hokkaido),
started in 1999 by Nagoyan college students
who were stirred by "Yosakoi Soran Festival ".
They thought that this kind of festival is good to raise the spirits of the community, to reach people and to spur the local economy.

1) "Yosakoi Soran Festival" also started in the same process with Do-mannaka Matsuri had.
In August,1991, one student ,who joined the Yosakoi Festival in Kochi, was moved by
the Yosakoi-bushi (folk music in Kochi) and dances with the naruko sounded all over the city.
He saw young people as his age was exciting with dancing
He succeeded to make up such exciting dance festival in Sapporo in 1992 getting 10 teams (1000 dancers)
Now this festival settled as things Sapporo in early summer.
In 2003, they had 330 teams (44,000 dancers) and 2 million spectators.




They wished to convey the excitement of the festival made up
a variety of amateur dancing teams.
Recently Do-matsuri became very popular.
In 2005 approximately 175 teamss (each teams has approximately 50-150 dancers)
from home and abroad will gather in Nagoya to perform dances originally choreographed.
It is also worth seeing their wonderful and colorful costumes.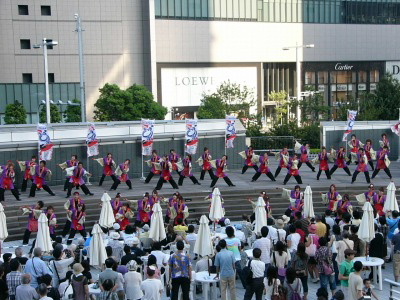 Site of Nagoya Station


There are two rules to participate this festival.
One is to use their local folk songs which can be arranged for any categories of music like rock, samba etc.
and to create their own choreography.
The other is to use naruko ( traditional wooden musical instruments in Kochi ,Kochi Pref. Shikoku Island, similar to castanets,
picture below) when they dance.

One special feature of Do-mannaka festival is So-odori in which the general public can participate.
They hope that, at the finale, there is no spectator but all the people participate the dance !

Please don't hesitate !
Let's dance !

Held at 19 locations in Nagoya.



| | |
| --- | --- |
| | |
| A large audience at the main site | View the performance on a screen near the main site |




Nippon Domannaka Matsuri
japanese only