Shuurakuen Daibutsu
聚楽園大仏

The oldest concrete Buddha in Japan made in 1927 (Showa 2)
Mr. Yamada Saikichi developed resorts Suurakuen Park in 1961 and built a stature of Buddha.
At the beginning, Ise Bay was lighted up from his third eye and people could enter inside of Buddha.
His purpose was not religious but for tourism. It was put up an article for sale and the owner was changed in 1938.
Then, in 1983, Soto School Daibutsu-ji temple became the owner. Buddha was painted in copper color in 1985.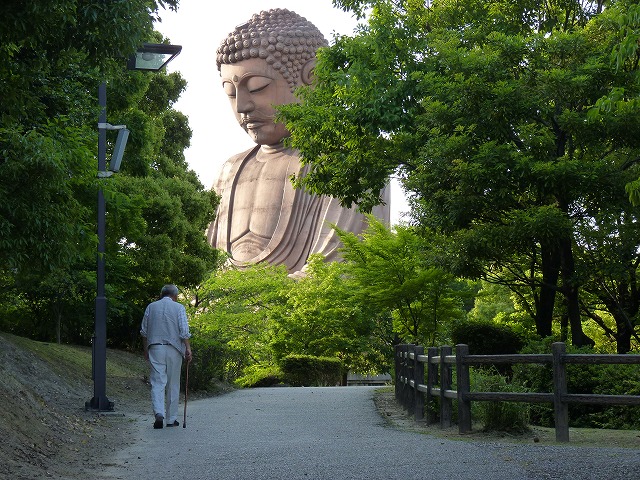 Stature of Nioh/仁王
(Un-gyo/吽形・・・close his mouth)
height: approx. 5 meters
height: 18.79m
Stature of Nioh/仁王
(A-gyo/阿形・・・open his mouth)
height: approx. 5 meters
Address:
2-1, Nishihazama, Arao-machi, Tokai C. Aichi Pref.
東海市荒尾町西廻間2-1
Access:
5-min. walk from Shuurakuen 聚楽園 Sta. on the Meitetsu Tokoname Line.
TEL:
052-689-1600 (Tokai-shi Shiawase-mura)
Hours:
Any time, any days
Admission:
Free