Takisan-ji Oni Matsuri
(Takisan-ji temple Demon Festival)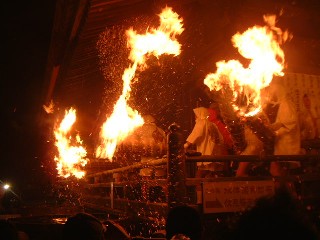 photo courtesy of Okazaki Kanko Kyokai
Important Intangible Folk Cultural Property
Designated by Aichi Prefecture

nearest Saturday to January 7 of the lunar calendar


This festival is held to pray for peaceful nation and rich harvest of grain:
rice, wheat, soy beans, barnyard grass and millets
It is said that the origin of this ceremony was started when Minamoto-no-Yoritomo prayed for them.
In the Edo period (after the third Shogun, Tokugawa Iemitsu),
it had been designated one of the ceremonies of the government.
January 7 was the Kechijitsu-bi (the last day of the Budhist monks' meeting) of the meeting
which started January 1 of the lunar calendar.




The climax of this festival is Hi-matsuri (fire festival).
In the sound of bells and drums, three men who wear masks of demon: an old demon couple and their grandson,
are chased by approximately 30 toshi-otoko young men
who wear white clothes and hold long torches.
The grandpa demon is taken a role by 42-year-old man and the grandma is by 25-year-old man.
They are in yakudoshi and are blessed by taking role of damons.
The grandson demon is take a role by 12-year-old boy.

This festival tells people in this region the beginning of spring.

schedule
(fine or rain)

exhibition of treasures
in Takisan-ji

1:00p.m. -
Homotsu-den
.

procession of Juni-nin-shu (12 people)

3:30p.m.
l
4:00p.m.

starts from
the Niomon gate

Procession represents an arrival of the head monk who takes in charge of this festival from Edo (present Tokyo).
He was an envoys from Shogun.



Buddhist service

5:00p.m. -
main temple
.

Naginata-ofudafuri
6:20p.m. -
.
.

Onizuka-kuyo

(mame-maki/bean throwing)

6:30p.m. -
.
Onizuka means a grave of demon.
According to tradition........
Long time ago, a yamabushi (itinerant Buddhist monk)
died in agony because he wore masks of demon
without purify himself and could not take off.
He was buried keep wearing father demon mask
and mother demon mask.
Therefore these masks are not exist in this temple.


Niwa Matsuri
(Garden Festival)
7:00p.m. -
.

performance of rice planting dance and song

Hi-matsuri
Fire Festival

7:45p.m.
l
8:00p.m.
.

This is the main event of this festival.
The masks were made by Unkei, a great sculptor of images of Buddha.




access
Get off at Higashi-Okazaki sta. on the Meitetsu Honsen line from Meitetsu Nagoya Sta.(express 650yen, 30 min.)
Then , take a Meitetsu bus bound for Onuma or Kami-Yonagochi.
(Bus stop No.6 at the North exit. 1:15p.m., 3:50p.m., 4:30p.m. 5:50p.m. They also run extra buses on that day.)
Get off at Takisan-ji-shita stop.(370yen, 25 min.)
.

---
inquiries
Takisan-ji (temple)
107, Yamakago Taki-machi Okazaki C.
TEL: 0564-46-2296






---