Unagoji Festival

(Sat&Sun near April 7,8)

Ushikubo Hachimansha (shrine)

Toyokawa City's Important Intangible Folk Cultural Asset.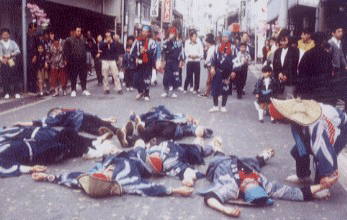 photo: Aichi Pref. Education Center

The official name of Unagoji Festival is "Wakaba-sai/Wakaba Festival".

5 floats, Sasa-odori dancers and Yan'yo-gami (Yan'yo gods) parade from Hachimansha shrine
to Tennosha shrine and back.
Yanyo-gami who follow at the tail of the procession lie down wherever they like
while shouting "Yanyo", meaningless words in a song for rhythm,
timing to the songs sung by sasa-odori dancers.
They can not get up until Toshigyoji helps them.

Unagoji means a maggot.
The figures of Yan'yo-gami gods which spreaded themselves on the ground look like maggots.
So, it has been called "Unagoji" festival.
In the Warring State Period, the lord of Ushikubo Castle had been
taking care of population of a fief very well.
One day he invited people to a party and reward them past services with sake.
They got drunk and went back home rolling on the ground.
They were very happy and incorporated their wonderful memory of his good government in the festival.


Saturday (Eve)
15:30
procession start from Hachimansha shrine for Tennosha shrine
16:30
procession arrive at Tennosha shrine
18:00
procession start from Tennosh shrine for Hachimansha shrine
20:00
procession arrive at Hachimansha shrine
Sunday
9:30
Shinto ritual
Kami-machi Float start
10:30
Kami-machi Float arrive at Hachimansha shrine
12:00-
Chigo-mai (children's kagura dance)
12:50
Procession with a float start at Hachimansha (shrine)
13:25
Naka-machi
14:00
Miwa-dori *** processon parts here
14:50
procession arrive at Tennosha (shrine) Float arrive at Family Mart in Miwa-dori
15:50

| | |
| --- | --- |
| | Float arrive at Ninami-odori Shimo-machi |

16:25
Procession start at Tennosha
17:00
Procession and float start at Minami-odori Shitamachi
17:40
Naka-machi
18:30
Kishigumi
19:10
arrive at Hachimansha (shrine)
19:30-
Chigo-mai (children's kagura dance)
20:00
Welcome the poatable shrine
20:20
Yanyo-gami enter the torii gate
20:30
Mitsu-guruma


inquiries
Toyokawa City Shoko-ka
TEL: 0533-89-2140

access
Get off at Ushikubo sta. on the JR Iida line.
Walk approx. 600m to Northeast.