Doburoku Matsuri
(unrefined sake festival)
at
Nagakusa Tenjin-sha Shrine
Obu C. Aichi Pref.

Sunday, before and nearest to February 25th
10:00 - 16:00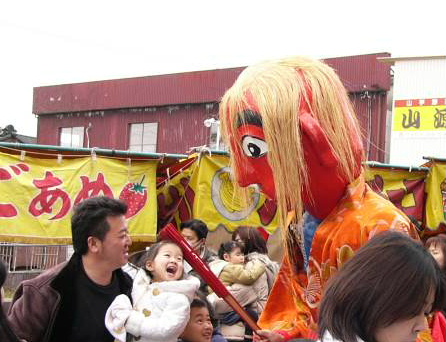 Shojo has a bamboo stick.or big fan made of bamboo.
***
It is said that a kid, who tapped his/her head
with the bamboo stick, will grow healthy and smart.
(If aged people are tapped, they get long life)
| | | |
| --- | --- | --- |
| | | |
| Nagakusa Tenjin-sha (shrine) | spring has come with doburoku | happy moment |
| | | |
| doburoku | sweet mediums | make long lines |

Doburoku Festival in Nagakusa Tenjin-sha Shrine is held with history of 500 years
and was designated as Obu City Intangible Cultural Asset.
Doburoku, unrefined raw sake, made by ujiko (parishioners in Shinto) is offered to the gods
and also shared with visitors.
Drink doburoku and you will be in good health all the year round.




Shojo, an imaginal living thing introduced from China, who is very tall,
with red face and loves sake so much, join this festival.
It is said that Shojo gives us happiness and virtue.
Only 15 cities (or town) keep this kind of festivals in Japan now.


***
Here is a story from China....
Long long time ago, there was a young men named Kofu at the roots of Mt. Kinzan.
He was very dutiful to his parents.
One night he dreamed about very marvelous experience.
.....He sells sake at the market. in a town. Everytime when he opens his stand, there comes a person
who drinks sake a lot but never intoxicates.
He asked his name, then he asnwered that he is Shojo living in the sea.
One evening in the moonlight, Kofu took a clay pot of sake and waited for Shojo at the seaside.
Shortly he appeared from the sea, then they drunk and danced together.
Shojo praised his supple mind and gave him a pot with an inexhaustible supply of sake.
Long night of autumn was passed and he woke out of sleep.
However, strange enough, the pot was remaining in his place.
Kofu's business prospered and his family became very happy.

Shojo gave prosperity and happiness to the son who practiced filial piety.

***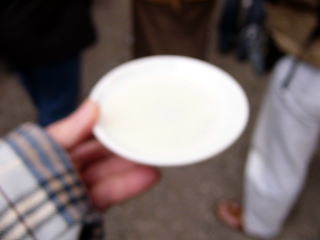 Can you see doburoku ? Hum...cloudy picture...
I guess my camera drank doburoku a lot behind my back !

Doburoku is unrefined raw sake made from rice with the lees unfiltered.
The amount of alchol is 10 % to 13 %.
Formerly this kind of sake was often home-brewed, which is illegal today.
If you made doburoku privately against the alchohl tax law,
you must pay at least a fine of 500,000 yen
or serve a sentence of a fifty-year prison.
But in some specific festivals in specific area or some in structural reform special area
it is permitted to produce.
Let's try to taste doburoku in the festival !

***

At noon, a shell horn tells time to serve doburoku.
Free doburoku: 12:00 - 14:30 (Buy a special sake cup for 200yen)
mochinage: 15:30 (approx. 30,000 rice-cakes are thrown. Let's catch them !)

***

Nagakusa Tenjin-sha
44 Hongo, Nagakusa-cho, Obu., Aichi Pref.

TEL: 0562-48-5456

***

access
Get off at Kyowa Station on the JR Tokaido Line.
A shuttle bus runs at 15-min. intervals from 10:00 to 16:00 from the station.
or
Take Meitetsu Bus bound for Ootagawa.
Get off at Nagakusa bus stop and walk 1 minute.