Konomiya Shrine
(official name: Owari Ohkunitama Jinja)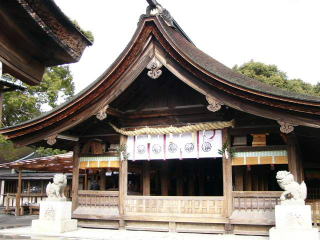 front shrine/Haiden

Owari-Ookuninomitama is enshrined.
In the Nara period, there was a Kokuga (local office of the Imperial Court) next to this shrine.
Then it was designated to the Soja (a shrine which enshrin gods enshrined in the shrines in the province)
in Owari Province (present aichi Pref.).
The top local officer of Kokuga, Kokushi, was the representative of this shrine.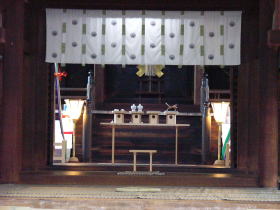 inside of the main shrine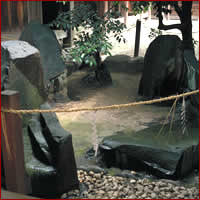 Iwakura
Photo courtesy of Konomiya Shrine
Iwakura is the place where let some great gods descend to earth.
There are five stones set out in a circle in Konomiya Shrine.
According to the shrine history, they are there date back well over two millenary.

In the Heian period, we started to build shrine buildings.
After Buddhism was introduced to Japan, lots of temples were built and Shinto followers followed.
Until then people hold very primitive and simple rituals.
For example they let gods descend to big trees, big stones on the summit, etc. as occasion demands and did a ritual for rain,
or worship the sun on the very day of the winter and summer solistice.

the approach to the shrine/sando
temple gate/Romon
important cultural asset
temple gate/Romon
important cultural asset
inside of the front shrine
the inner room is the main shrine
inside of the Naoiden
People buy new talismans
at the counter of the shrine and
tie up an old ones which
they bought last year.

Naked festival

inquiries
Konomiya Shrine
1-1-1 Konomiya, Inazawa C. Aichi Pref.
TEL: 0587-23-2121

access
Get off at Konomiya sta. on the Meitetsu Nagoya Honsen line.
Take the Kita-guchi (North exit)
3-min. walk.