Konomiya Naked Festival
(Konomiya Hadaka Matsuri)

January 13 of the lunar calendar

Kounomiya Shrine

One of the most famous naked festivals in Japan and attracts approx. 200,000 to 300,000 spectators in each year.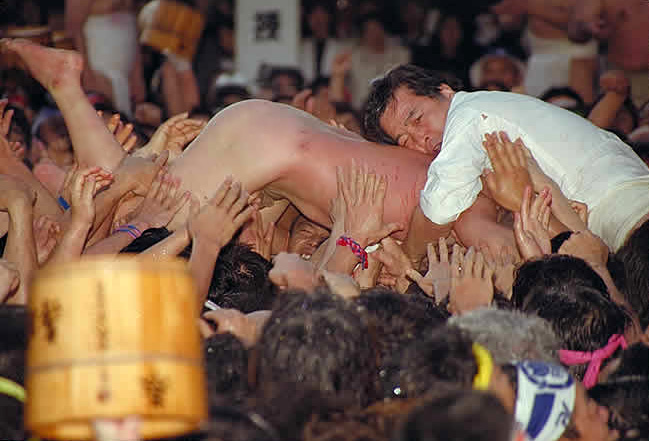 -

Photo courtesy of Konomiya Shrine
Shin-otoko (lit. God man) is pulled up from the crowd of naked men in front of Naoiden. His body is
covered in scars and bruises. General naked men want to touch him until the last moment.
Movie(by Hans Kemp): https://youtu.be/tJx2YflJoA4

Naoi-shinji, also known as "Hadaka Matsuri (naked festival) ",
started in the year 767A.D, the Nara Period.
This rite was founded on the fact that the governor of
Owari Province (presently Aichi Pref.)
visited the Owari Shosha Shrine ( Konomiya shrine )
to drive away evil spirits and calamities, because Emperor Shotoku
ordered all the kokubun-ji* to offer invocations to dispel plagues.

It is said that the form of the festival, a struggle to touch the Naoinin or Shin-otoko (man of god),
is reminiscent of the struggle in old times between the assemblage of lower-ranking shinto priests called shanin and
contributors tried to catch and set up a man for naoinin (shin-otoko),
an unlucky poor man, who was unwilling to take the role.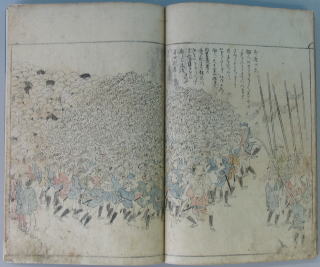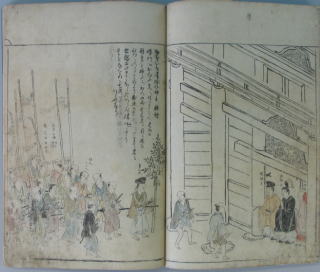 Catch a naoinin (present shin-otoko)
Click for larger pictures(You see a naoinin in a white kimono on the right page of the left book.)
*These pictures are taken out of "Owari-Kokufu-Saiki"/ collection of Nishio-shi Iwase-bunko librely.
*Please don't copy these pictures from this webpage directly.
*If you would like to copy them, please contact Nishio-shi Iwase-bunko



Originally naoinin was a kind of offering or sacrifice.
In the early morning of January 13th of the lunar calendar,
contributors of the shrine, armed with spears or swords
and taking tessho (sakaki tree branch with small bells, a talisman and a knife attached),
had attacked and caught a man who they met more than 4km
from the shrine in the lucky direction that year by accident.
They were indiscriminate when catching a man, except bushi(samurai), female, children, priests and beggers.
The unlucky man was outraged and dragged off to the shrine.
Before daybreak the next morning following the festival,
naoinin carrying tsuchi-mochi¹ and a doll on his back was driven out from the territory of the shrine.

1..tsuchi-mochi is made by a shinto priest on Jan. 11. It's a rice cake stuffed and coated with ash
which was made from tsubute thrown to naoinin the preceding year

This violent function sometimes caused riots.
It is said that Oda Nobunaga (1534-1582) forbid people to hold this shinto rite for three years.
In 1743, the government of the Owari Clan condemned the rite.
So from 1744 to 1867, there are no documents about Naoinin.

In the early Meiji period, since that rite was established among people,
and since they didn't have any special events like
this to hold in early spring, they combined the customs of paying homage at shrines
in midwinter with the naked aspect.
This became the festival of the present day.

***

Today, this festival is regarded as one of the three most popular naked festivals in Japan.
(with Eyo of Saidaiji Temple in Okayama pref. & Tamaseseri of Hakozaki-gu shrine in Fukuoka pref.)

This is also regarded as one of the three weirdest festivals in Japan.
(with Yoshida-no-himatsuri in Fujiyoshida C. Yamanashi pref. & Obi-Matsuri in Shimada C. Shizuoka pref.)




January 2nd of the lunar calendar, the great honor of being the consecrated man or
Shin-otoko, is chosen among the citizens who applied for it.
After one is selected for taking a divine role, he has to purify his body and spirit
to be sacred through various kinds of practice.
On January 10th, he goes into the shrine,
shuts his life from the outer world and starts to purify himself for three nights three days
until the Naoi Shinji (naked festival).
He then has to shave off all his hair on his body except eyebrows to perfectly cleanse himself.
He can have only rice porridge and water while he stays there.


On the day of the naked festival, approximately 9,000 to 10,000 naked men
who wear shitaobi (loincloth) participate in carrying naoizasa to Kounomiya Shrine.
Naoizasa is a big bamboo pole which is wrapped in long pieces of cloth made of hundreds of small cloths tied to each other.
On these smaller cloths, names, birthdays, and wishes are written
by those who can not participate the festival, like women, children, or sick men.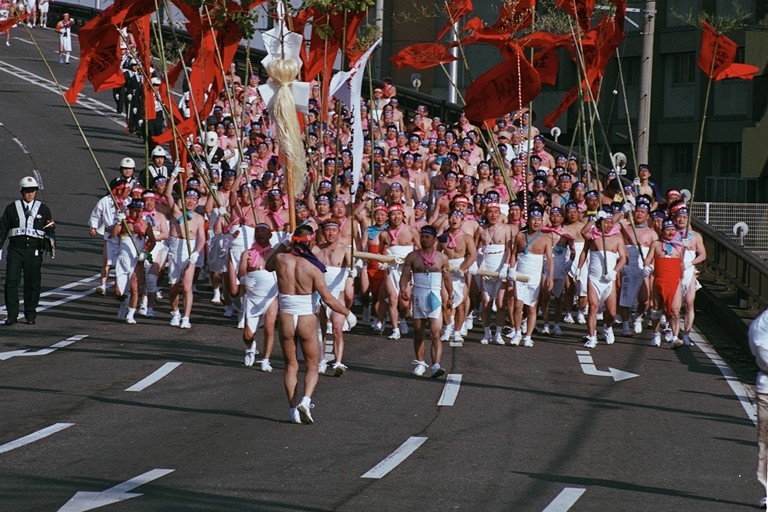 | | |
| --- | --- |
| Wave after wave of naked men's group | Photo courtesy of konomiya shrine |


On the way to the shrine, they swing and turn around and sometimes
climb up a naoizasa pole.




Click above for a larger picture
Climb high, climb far !

After they have carried the bamboo to the shrine, they wait for the appearance of Shin-otoko.
No one knows when he will appear, but it is usually around 4:30 to 5:00 p.m.
On that day, the Shin-otoko is completely naked.
He is guarded by very tough ex-shin-otokos, because hundreds of naked men
surround him and try to touch him to get rid of misfortune for the new year.
The Shin-otoko appears from the path in front of the shrine,
but it takes him more than 30 -40 minutes to reach the shrine
because of the huge crowd of naked men.
Cold water is showered over them again and again to scatter them away from Shin-otoko,
and also to protect the naked men from being hurt by the violence of the crowd.
Since this festival is held in a very cold season, water quickly
becomes steam moments after it is thrown.(Look at the picture on the top of this page).


Click above for a larger picture

.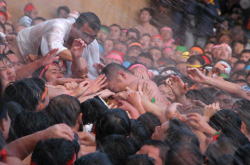 Click above for larger pic..photo by Takeken



The ages of 23 and 42 for men are "yaku-doshi" or the age of suffering from misfortune.
So, lots of people who are 23 and 42 years old participate in this festival
to touch Shin-otoko in order to get rid of their misfortune.
Of course any men can be "naked men (hadaka-otoko)" in this festival.



One day before the festival, between 1:00p.m. and 2:00 p.m.,
a set of huge rice cakes called O-kagamimochi (weighing 4 tons) are carried to Kounomiya Shrine.
One is 2.4m and the other is 2m in diameter and
the smaller one will be put on the bigger one.

The following day of the festival, the rice cake will be cut and given to the people.
If you have pieces of this rice cake, you will have good health during the summer.
You will probably be able to get it a few days after the festival.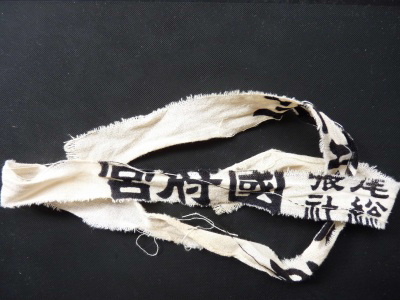 This is a part of headband that the real naked man wore !


2023 ?

Let's participate the Naked Festival !
If you would like to participate in this festival as a naked man/hadaka-otoko,
| | |
| --- | --- |
| Please contact me via e-mail subject: konomiya | |
Application deadline of Sarashikai group: January 26, 2020


Expence
* Participation fee: 2,500yen (student: 2,000 yen) in 2019 <Not yet decided for 2020>.
* Special matsuri-tabi (Japanese socks with rubber sole for festival) : around 1,000yen
* Sarashi (bleached cotton cloth): around 1000 yen
* Sake and snacks (share the expenses with international participants) 300 yen to 500yen
*Transportation fee *Lunch

I will buy your tabi and sarashi in advance if you don't know where to buy them.
Please let me know your shoe size in advance.


Details to participate



Konomiya Shrine

1-1-1 Konomiya, Inazawa city
TEL: 0587-23-2121

<access>
* Take Meitetsu Nagoya Honsen line bound for Gifu from Meitetsu Nagoya Sta.
(Platform No.1)
Get off at Konomiya sta.
(about 13 min from Meitetsu Nagoya Sta. by express)
3-min. walk
360 yen (one way)





Festivals around Nagoya

Festivals in Nagoya

Festivals in Japan