KOSHO-JI
(Yagoto)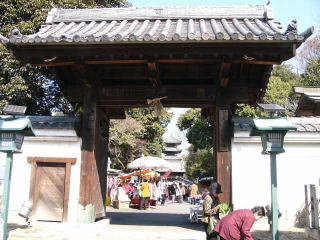 Kosho-ji sanmon/Kosho-ji temple main gate
| | | |
| --- | --- | --- |
| | | |
| inside of the main temple | five-story pagoda | charnel house Ensho-do |

The formal name of this temple is YAGOTOYAMA KOUSHO-JI.
In 1688, Koushou-ji was founded by Tenzui-Enshou-Wajou,
a priest of Koyasan-Kongoubuji temple which was supported by Tokugawa-Mitsutomo.
Mitsutomo was the second feudal lord of the Owari Clan
and a follower of the Koyasan Shingon religion.
Tenzui-enjou-wajou built many buildings there as invocation places
for the Tokugawa family, for the ashrams, and for the schools of
Shingon esoteric Buddhism.

***


Koushou-ji temple is divided into two parts:
One is called Higashiyama (East Mountain).
The Dainichi-nyorai (the top idol of this temple) enshrined
in the Dainichi-do, Oku-no-in, Koubou-do and Fudou-dou are in this area.
The other part is called Nishiyama (West Mountain).
On this side are the Gojuu-no-tou ( five-story pagoda),
Hon-do (the main building of the temple), Kannon-do, and Nenbutsu-do.

***

Koushou-ji is famous for pokkuri-shinko.
This is a kind of wish for a sudden death rather than a death
that occurs after a long period of illness.



On the 5th and 13th of each month, many people come and
enjoy the temple fair. Approx. 150 stands. 8:30-14:30 (could be changed by weather condition or season)


***




Also, on the third Saturday of October, Sento-kuyo-e,
the largest event of the year, is held. During this event,
yamabushi monks dress in traditional clothing and perform
a ritual to memorialize all people that have passed away,
drive away misfortunes, and bring prosperity to all.
A large bonfire is lit, hundreds of candles are placed
on both sides of the path leading to the temple,
and monks play the traditional horagai, or shell horn.

inquiries
78 Yagotohonmachi Showa-ku Nagoya
TEL: 052-832-2801

access
Get off at Yagoto station on the Tsurumai or Meijo subway line.
Go through exit No.7.
Turn right and walk 3 minutes.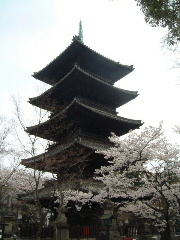 Pagoda & cherry blossoms