Tempaku Park
Tempaku Koen/天白公園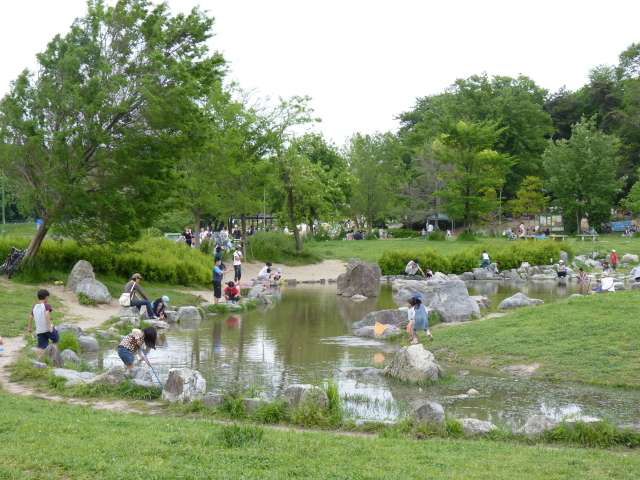 People love to play near water
Fresh air and green
Slider and
Main play system
Camping area
We can use the place from sunrise to sunset.
There are 20 ovens (zoneA: 12/ free, without
reservation, zoneB: 8/for a group over
50 people, 1 day-1600yen, half day-800yen. )
If there is no reservation for zone B
by a big group, you may use the ovens freely
Children's park
Tarzan?
GP ground
GP ground
To the forest
Fringed iris
Parking Hours (2010)
-
North parking area (100)
East parking area (30)
Weekday
Sat, Sun Holiday
Weekday
Sat, Sun Holiday
March - November
9:00-20:00
7:00-20:00
10:00-20:00
7:00-20:00
December - February
9:00-20:00
9:00-20:00
10:00-20:00
9:00-20:00


TEL
Tempaku Doboku Jimukyoku
052-803-6644

Address
Aza-Kuroishi, Oaza-Shimada, Tempaku-ku, Nagoya, etc.
天白区天白町大字島田字黒石

Access
Get off at Ueda 植田Sta. on the Tsurumai Subway Line.
A 20 min. walk or take a municipal bus "Tempaku Junkai Migimawari 天白巡回右回り"(9 min)
Get off at Tempaku-Koen 天白公園 stop.
or
Take a municipal bus and get off at HirabariMinamiJutaku 平針南住宅 stop.


Park

Monthly Info.