Yokoi Shoichi Memorial Museum
横井正一記念館
since 2006 (Heisei18)


Mr. Shoichi Yokoi 横井正一 (1915-1997)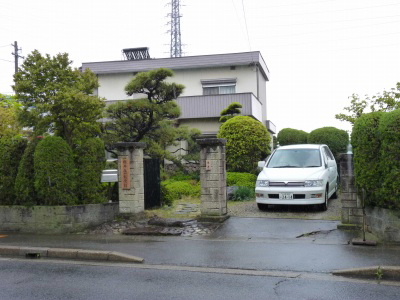 Yokoi Shoichi Museum is in a private residence.

Mr. Shoichi Yokoi was a Japanese army straggler who lived
in the jungle of Guam for 28 years after the World War II ended.
He came back Japan in 1972.


The cave he had been hiden in the jungle has been
reproducted in the museum.
He never cooked in a daytime.
Sketch of his cave house
Yokoi Shoichi loved making pottery and had his own kiln in
the garden. His beautiful works are displayed.
Replica of the weaving loom that he used in the jungle
(Made by Yokoi Shoichi himself) He made fablics with
skin of hibiscus. He was a tailor before the
World War II.
Replica of the bamboo pot he used in the jungle
(Made by Yokoi Shoichi himself)

Real items Yokoi Shoichi used in Guam are kept in Nagoya City Museum.


Opening Day
Sunday only
(If you would like to visit on weekday, please call the office)

Opening Hours
10:00-16:30

Admission
Free

Address
4175 Oaza-SennonjiInaya, Tomida-cho, Nakagawa-ku, Nagoya
名古屋市中川区富田町大字千音寺稲屋4175

Access
Get off at Nakamura Koen Sta. on the Higashiyama Subway Line.
Take a municipal bus bound for Todaso 戸田荘.
Get off at Sennonji 千音寺stop. Turn right at the Torii-cho 鳥井町intersection and go straight
Turn left at the first traffic signal Inaya 稲屋 intersection.
Walk 50m.

TEL
052-431-3600



Monthly Info.




May 1, 2011. 横井夫人許可