HEALTH INSURANCE


The Foreign Student Center at Nagoya Unversity suggests that
foreign students who receive Mombu-Kagaku-sho
( Ministry of Education, Culture, Sports, Science and Technology )
scholarships and NUPACE students apply for their
National Health Insurance on the day following their arrival
at the local ward office.
Volunteer YWCA members will assist you in this process.

Generally, those who reside in Japan for at least one year to be
eligible the insurance program.
You must complete '`lien 'qegistration procedures before
you apply for 'mational 'gealth 'hnsurance.

Within several days of applying for the 'mational 'gealth 'hnsurance program,
you will receive a postcard from the ward office.
Fill out the card and bring the postcard to the counter where you applied for the insurance,
and you will receive your 'mational 'gealth 'hnsurance card.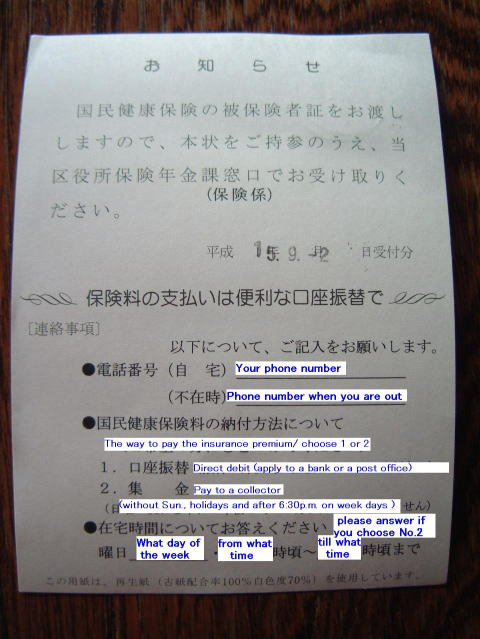 After two months, you will be required to pay your first insurance premium.
The insurance premium is determined by your income and
the number of your family members in your household.
You will receive a bill from the ward office and be required
to pay your premium at your bank or a local post office.
If you are single, the fee is approximately 1,000-1,500 yen per month. Generally,
it is more convenient to charge this amount directly to your bank account.

If you require treatment at a hospital,
present your national health insurance card to the receptionist.
You will be required to pay only 30% of the total medical bill.

Submit the Registration for Medical Fee Compensation form
to the Japan International Education Association through your university.
When you submit the Medical Fee Compensation Application form
and receipts for your medical fee, you will be reimbursed for all
but 20 % of what you were billed for at the hospital.

For example, in case that total amount is 5,000 yen,
you are only responsible for 300 yen.
5,000 X 0.3 X 0.2 = 300


alien registration



pension system


:::Chikusa Ward Office:::

8-37 Kakuozan-Dori Chikusa-ku Nagoya TEL(052)762-3111
Get off at "Ikeshita" on the Higshiyama Subway Line, take exit No. 2
The office is in front of the bridge over Hirokoji-dori street
When you take exit No. 1, turn to the left.
You will reach Hirokoji-dori street in 1 minute.
Cross the street, turn to the left, and the Ward Office is
in front of the bus stop and a bridge.
Counter No 11 is for Alien Registration
Counter No 7 for National Health Insurance
Counter No. ( ) for Pension

Open: Monday- Friday: 8:45 a.m. - 5:15 p.m.
Closed: Sat, Sun. National holidays
TEL: 052-762-3111



:::Showa Ward Office:::

3-19 Ayuchi-dori Showa-ku Nagoya TEL(052)731-1511
Get off at "Gokiso" on the Tsurumai Subway Line or Sakura-dori Line.
Take exit No 8, which is very close to the office.
Counter No 4 for Alien Registration
Counter No 6 for National Health Insurance
Counter No. ( ) for Pension
Open: Monday- Friday: 8:45 a.m. - 5:15 p.m.
Closed: Sat, Sun. National holidays

TEL: 052-731-1511