Tagata Jinja Hounen-Matsuri
(Tagata Shrine Rich harvest Festival)

Tagata Shrine

March 15th (annual) 10:00 - 16:00
The offering is coming !
Everybody is laughing, smiling and
touching
Good luck charms of this shrine
are made from the old phallus.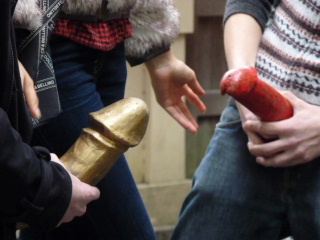 Gold one !

The Hounen Festival of Tagata Shrinei is one of the most interesting
and funny festivals in Japan. However it has also serious sacred meanings.
It is held on March 15th, early spring, every year
and it is the time which plants come into bud and feel the power of life.

Hounen means "a rich(fruitful) year for crops" and Honen Festival is held to pray
for the world peace, luxuriance or a rich harvest of cereals and prosperous life.
The huge phallus called Oo-Owasegata is a symbol of the source or principle
which gives life to all nature.
Oo-owasegata is not a portable shrine but a offering.

(After they put a new offering in front of gods,
the old one will be used for making ema or other goods)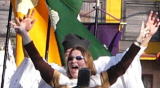 What a brave lady !
She is sitting on a .....
(click on this photo)

Every year a new phallus is made by some specialized
carpenters for shrines and temples.
It is made by Japanese cypress ( hinoki ) from a famous source in
Nagano Pref., and takes approximatery 10 days to carve.
The completed phallus is about 60cm/ 23.6 inches in diameter,
about 2m/6.56 ft in length,
weighs 280 kg /620 lbs by itself, and about 400Kg/880 lbs
including the covering it's carried with.


| | | |
| --- | --- | --- |
| | | |
| With Sarutahiko-no-Ookami or tengu | yippee ! | smile : )) |
Wow !
Enjoy the festival !
Young ladies
The decorated bamboo is a sign of free sake
service cart. You can drink as much as you want.
Heavy ?
Kampai (toast)


It is carried approximately 500 to 1,000 meters from otabisho* to Tagata shrine as the crow flies,
but it's takes almost 1 hours and half.
Because on the way to Tagata-Jinja shrine, the parade often stop and attract visitors.
We can touch or hold or ride on the Oh-owasegata (see the photos).
And we can also drink free Japanese sake flow like water from the barrels
which also carried as a part of the parade.

* Otabisho is a smaller shrine or temporary shrine like a villa for gods during a festival.
In Tagata Shrine Honen Festival, the otabisho is changed every other year
between Kumano-sha (in odd number years. 1 km from Tagata shrine, on the top of the hill)
and shinmeisha (in even number years. 500 meters from Tagata shrine).


After the CNN introduced this festival, so many foreigners come and enjoy.
Maybe more than 20 to 30% of the visitors are foreigners.
American military groups come to see here by large buses from military base all
over Japan


the final event of this festival
rice-cake throwing or mochi-nage
They are not UFOs
but a rice cake(mochi ) shower
Schedule of Honen-sai
10:00 a.m.-
Setting the OoOwasegata and other items to the Otabisho.
Procession of men who carry the OoOwasegata start from OwariChuohNohkyo Ajioka branch
with rice cakes
11:00 a.m. -
Yakubarai-sai at Tagata Shrine
1: 00 p.m. -
A solemn ceremony ,Gozen-sai, is held at Kumano-sha ( shrine)
or Shinmei-sha (shrine ) to pray the safty of the procession.
Those two shrines take turns holding ceremonies depending on whether the year is
odd number years (Kumano-sha) or even number years (Shinmei-sha).
2: 00 p.m.

Procession starts from Kumano-sha ( in odd-number years )
or Shinmei-sha ( in even-number years)
* course map/ Kumano-sha to Tagata Shrine

3: 00 p.m. -
The festival begins at Tagata Shrine
3: 30 p.m. -
The procession arrives at Tagata Shrine
4: 00 p.m. -
Rice cake throwing starts at Tagata Shrine



ACCESS

1
Subway
Change the train at Heian-dori Subway Station on the Meijo line
to the Kami-iida Subway Line bound for Inuyama
( a train from Heian-dori to Kami-iida , one section,
is a subway for one stop and then switches
to the Meitetsu Line automaticaly on its way to Inuyama)
Please ask the station attendants if you don't know well.
Get off the train at Tagata-Jinja-mae.
From the station, just follow the other people headed to the festival.
Walk 5 minutes.


ex. : From Motoyama to Tagata-Jinja-mae / 570yen (one way)
From Nagoyadaigaku to Tagata-Jinja-mae / 600 yen (one way)

It takes 25 minutes from Heiandori to Tagata-jinja-mae Sta.
You can use "Yurica tranpass card".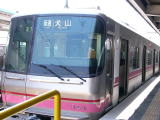 ( A train on the Kami-iida Line and Meitetsu Komaki Line )




Tagata Shrine

152, Tagata-cho, Komaki City, Aichi Pref.
Phone: 0568-76-2906

map