Tagata Shrine
"cãp_ŽÐ/Tagata Jinja

Mitoshinokami/ŒäÎ_ and Tamahimenomikoto/‹Ê•P–½ are enshrined.
Local ruling family of this area enshrined them to pray for the prosperity and good harvests
with Japan's ancient ethnic thought: Mother the land produces conception with a father, the grace of heaven.

Mitoshinokami/ŒäÎ_: Grandson of Susano-no-mikoto 'fœûšj'¸. Son of Otoshi-no-kami 'åÎ_.
Responsible for agriculture. Protectorate god of the prosperity and good harvests
Tamahimenomikoto/‹Ê•P–½: Princess of Oaratanomikoto 'år"c–½ who is the original pioneer of the Owari area.
Owari Takeinadatenomikoto 's ŒšˆîŽí–½ wife. Godess of love, having a healthy baby and easy delivery.

Rich Harvest Festival is held on March 15 of each year.
| | |
| --- | --- |
| | |
| Tagata Shrine main gate | main shrine |
There are many images of male symbol in the shrineyard.
Simbol of the prosperity and good harvests.
| | | |
| --- | --- | --- |
| | | |
| Even a bell ... | offerings | offering |
| | | |
| --- | --- | --- |
| | | |
| couples want to have healthy babies | lots of ema | I hope their wish come true ! |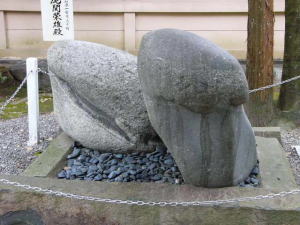 a pair of stone sexual organs


Address
152, Tagata-cho, Komaki City, Aichi Pref.
¬–qŽs"cŒ§'¬152

TEL
0568-76-2906

Access
Get off at Tagata-Jinja-mae@"cãp_ŽÐ'O Sta. on the Meitetsu Komaki Line.
Get off at Tagatajinja-mae Sta.
Walk to the southwest approx 200m.
From the station, just follow the people headed to the festival.
Walk 5 minutes.

map

Tagata Shrine Rich Harvest Festival/–L"NÕ Hounenmatsuri (Very popular and funny festival)

<Shrine and Temple near Tagata Shrine>
Ooagata Jinja (Shrine)---Kind of a couple shrine with Tagata Jinja --Ooagata Jinja Hounen Festival

Mama Knnon --Temple for praying breast feeding


Monthly Info.