Running Horse Festival
Kakeuma (Umakake) Matsuri

Hirachi-Shimmeisha (shrine) in Handa city
The first Sat. & Sun. in April
If the either of the days falls on April 1,
the festival will be held on the second Sat. & Sun. in April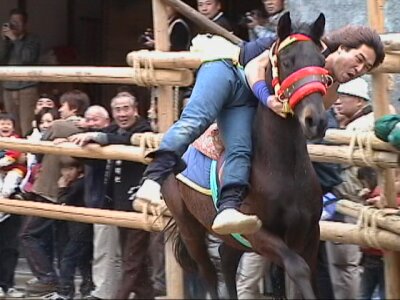 Kakeuma
cling to a running horse neck

In 1999 they started Kakeuma again, though they had been
dropped it since 1967
because of the breakup of Seinendan (a group of young men).




It has been said that the trigger of Kakeuma (lit. running horse.) was come from a victory
of Nobunaga Oda against Yoshimato Imagawa in the battle of Okehazama in 1560.
Lots of people who lived around Nobunaga's castle (Kiyosu Castle) made horses rush to the castle
and welcomed his return in triumph with rejoicing.
After that, people started to join the village festivals parading with decorated horses (uma-no-toh or omantoh) or
making horses run in the precincts of shrines (kakeuma)
This custom has remained in Owari area, West-Mikawa area and East-Mino area
as few days dedication of horses to shrine.

No one knows when Kakeuma in Hirachi-shinmei-sha started, but there is an account
in the vol. 4 of Owarida-no-mashimizu published in the second half of Edo period by the Owari Clan
that "The shrine building was burned out in 1581.They hold a main festival
and dedicated dragon dance, Sasa dance and Kakeuma to Hirachi-shinmei-sha shrine in August 1st."
Hirachi-shinmei-sha is the only shrine which has kept kakeuma in Handa city.


kake-uma dedication in other cities
Higashiura-cho(5 shrines), Oobu City (2 shrines), Kariya City(1 shrine), Takahama City(1 shrine),
Hekinan City(3 shrines) and Nishio City(1 shrine), they also keep similar Kakeuma.

There are approximately 80 special horses for Kakeuma,
and they are raised in the Chita Peninshula and Nishi-Mikawa area.
schedule
The first Saturday
in April

8:00 - 13:00
mochitsuki / making mochi (rice cakes)
13:30 - 16:00
kodomo-mikoshi / parade by children carring small potable shrines
18:00 - 21:00
yoimiya /festival eve .......lion dance
The first Sunday
in April
8:30 - 9:00
shinto ritual
9:30 - 10:50
parade of decorated horses (course)
11:30 - 12:30
Kakeuma (main event) .....The picture above
12:30 - 13:30
let's take a ride on a pony
13:30 - 14:30
Kakeuma (main event).....the picture above
14:30 - 15:30
cleaning of the ridding grounds
15:30 - 15:35
mochinage / rice cake throwing or rice cake shower
reference : A group to preserve Umakake TEL 052-22-3110


access

Take JR Tokaido-Honsen Line Bound for Hamamatsu or Toyohashi from Nagoya sta.
Change the train at Obu sta. to the Taketoyo Line.
Get off at Kamezaki Sta. (30-40 min from Nagoya )
Hirachi Shinmeisha (shrine) is 5 minutes walk from Kamezaki sta.


inquiries
0569-22-3110